We stumbled upon archery quite by accident.  My husband is an avid hunter.  He has rifle hunted for deer for as long as I've known him, but a few years ago he started to become interested in archery hunting.  He found a used bow and began shooting at a local indoor archery club to learn how to shoot well.   One Saturday morning, I was off running errands and the Big Dog decided to go over to the archery club to shoot his bow.  He took our two boys and they headed for "the club."  When they arrived, there were 20 or more children of varying ages taking archery instruction.  The instructor called to our boys to pick up a bow and give it a try.  That was the beginning of our first season of archery instruction.
Since that Saturday morning, our boys have taken archery instruction every Saturday from 9:00 AM to 11:00 AM in January, February, and March for the past three years.  Our oldest son, Big Mac, received his first bow for his 10th birthday and has shot two state competitions with it as well as numerous local competitions.  Our youngest son does not love it as much as his brother, but he is a good archer and we're hoping to pique his interest with a bow of his own this summer.
On Sunday, our archery season ended with the state indoor archery competition.  My husband and oldest son competed in this two-day archery tournament with nearly 500 other shooters of all ages.   The first day was quite a challenge for us as Big Mac had been sick all week with the flu.  He was still not feeling well as he stepped to the line to fire his first arrow.  After shooting the first few rounds, he came to me, put his head on my shoulder and said, "I want to go home."  We encouraged him to continue shooting and rest between rounds.  It warmed my heart to see he and his daddy walk back from the target holding hands.  Even at 11 years old, he's not too old to hold his daddy's hand.  Big Mac learned a lesson in perseverance that day and his brother, T-Bone, learned about the power of prayer as he prayed for his brother to be encouraged and uplifted.
On Sunday, he was feeling better and finishing each round was not as much of a struggle.  When we got to the arena Sunday morning, Big Mac checked the scores from yesterday.  Even after feeling ill and not shooting his level-best, he had finished the day in first place for his age group and shooting level.  At his age, the group is called Cadet.  The Cadet shooters are aged 11 and under, so this is Big Mac's last year in this group.  The shooters are broken down into two classes.  Class A cadets shoot lower numbers than class AA.  After shooting last year, Big Mac was placed in the AA class of cadets.  So, on Sunday morning, he was leading the pack of aged 11 and under shooters in the better class.  This did not help him focus on his shots, which is another lesson learned from archery:  focus, focus, focus.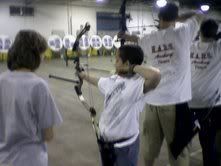 Sunday was a long day with the first arrow being shot at 12:00 Noon and the archers coming off the line at 3:30 PM.  They each shot 60 arrows and scored them accordingly.  We packed up the equipment and waited for results.  I know that I could never be one of those stage mothers pushing their child to attain greatness.  Just waiting to see how Big Mac and his daddy finished in their respective classes was excruciating!  Finally, shortly after 5:00 PM the results were announced and medals awarded.  Our Big Mac won the first-place gold medal for cadet shooters in class AA.  He won his division by 10 points.  The next boy behind him won second place by 1 point, so the competition was quite close at his level.  To our surprise, Daddy Big Dog won 3rd place in the men's class A shooters.  So, Daddy has a bronze medal and Big Mac a gold.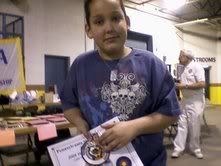 And so another season of indoor competition archery is over and we are quite pleased with the results.  Recently I have taken up shooting and find it terribly relaxing.  Next year, our youngest might be able to shoot competition and his brother will move from a Cadet to a Junior.  Who knows?  Maybe there will be four of us on that line shooting a state competition next year!