Even though I have been blogging for years on this particular blog, I realized that I've never introduced you to my family.  Now, most people will advise that children should not use their Christian names on the internet, so I will be introducing you to my clan using their nicknames.  And so, without further ado...here's my family!
First and foremost, you must meet the Big Dog.  This is my husband.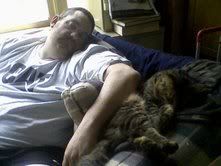 In this picture he's napping with our 1-year-old kitten, "M."  We got M right around my 40th birthday.  He was part of a litter from a neighboring farm.  His name is M because the fur above his eyes makes an M.  Daddy is named Big Dog because he is 6'3" tall.  (I am 5'2", so there's quite a disparity of inches between us.)  Big Dog loves to hunt and sho0t his bow.  He's a great fisherman but gets frustrated fishing in Pennsylvania because the fish are not as abundant as they were in Northern Minnesota where he was born and lived until the age of 20.  He also loves to read, which I love about him.
 Second, please meet my first born, Big Mac.
He is is father's son.  I always say that I would not miss my husband if he were gone because I've got a carbon copy of my husband in Big Mac!  He is a champion archer (literally, he won the state archery competition for youth aged 11 and under this year), avid reader of Geronimo Stilton, and all-around good guy.
Third, is our T-Bone.  He is another of his father's sons.  He is an ardent laugher, animal-lover, and video game expert.  He has installed all of our computer software since he was 4 years old.  If it were up to T-bone, this house would be filled with animals, both the live and the stuffed-toy variety.
And now you've met them.  When I speak of Big Dog, Big Mac, and T-Bone, you will be able to put a face to a name as well as having this brief glimpse into their personalities.
And, I guess, there's me.  I love my family and thoroughly enjoy homeschooling.   You'll find me most nights knitting or
crocheting
but I also love a good book.  I play piano and am currently the
worship leader
in our small country church.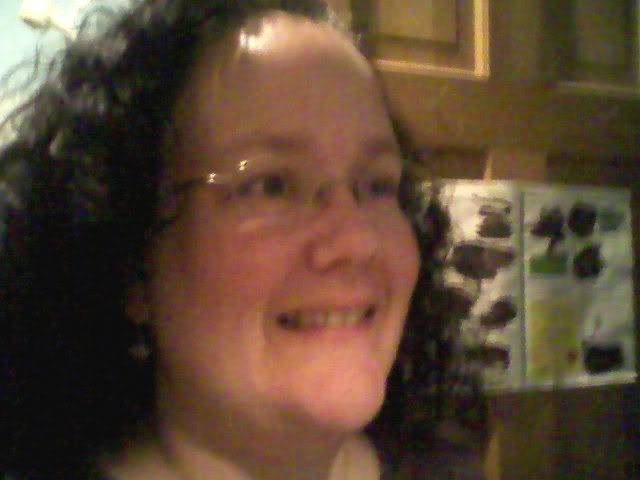 We live in a little green cottage in Central Pennsylvania that we call Galleon's Lap.  One day I will list the passage from Winnie The Pooh that led us to name our house "Galleon's Lap."  We call our little homeschool "Galleon's Lap Academy."
So, that's us!  We'd love to meet you.   Please leave a comment and introduce yourself!