Over a year ago I lost a recipe. This was a recipe given to me at a restaurant that is no longer in business in Lancaster County PA. I was preparing to make it as part of my bi-weekly menu planning. I had pulled the recipe out of my card file. And then...it was gone! I couldn't find it anywhere! Since then I have been searching for that recipe. I looked on-line to no avail. I called relatives. (I thought my mom and sister were with me when I got this recipe) They didn't remember this recipe at all.
Today, I tackled one of the items on my four-page to do list. I cleaned out the desk apprentice. We have a wonderful organizer for paper and school supplies called the "Desk Apprentice." It sits in an honored place in the corner of the kitchen right by the table where we do most of our work. But, as most things in our kitchen, it became a dumping ground. My organizer was in desperate need of organizing. So I completely emptied it onto the kitchen table. As I got to the bottom of the organizer guess what I found? MY RECIPE! Yippee! Praise God!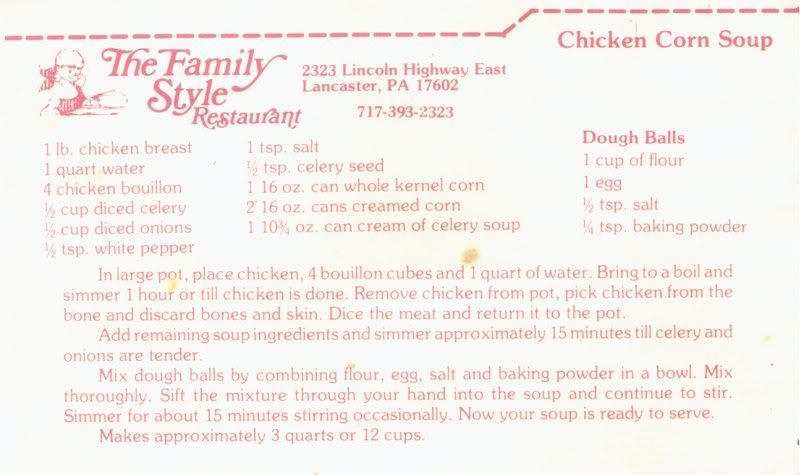 Now, in order that I never lose this recipe again. I am going to record it here for all posterity. Please try it. It is the most delicious soup. And now, if I lose my card again...I can find it in my blog!
Chicken Corn Soup
from The Family Style Restaurant
Lancaster, PA
1 lb chicken breast
1 quart water
4 chicken bouillon
1/2 C diced celery
1/2 C. diced onions
1/2 tsp. white pepper
1 tsp. salt
1/2 tsp. celery seed
1-16 oz can whole kernel corn
2-16 oz cans creamed corn
1-103/4 oz can cream of celery soup
Dough Balls:
1 C flour
1 egg
1/2 tsp salt
1/4 tsp baking powder
In large pot, place chicken, 4 bouillon cubes and 1 qt of water. Bring to a boil and simmer 1 hour or till chicken is done. Remove chicken from pot, pick chicken from the bone and discard bones and skin. Dice the meat and return it to the pot.
Add remaining soup ingredients and simmer approximately 15 minutes till celery and onions are tneder.
Mix dough balls by combining flour, egg, salt, and baking powder in a bowl. Mix thoroughly. Sift the mixture through your hand into the soup and continue to stir. Simmer for about 15 minutes stirring occasionally. now your soup is ready to serve.
Makes approximately 3 quarts or 12 cups.