Several years ago I made an advent calendar for the boys to count down the days until Christmas. I used a large piece of felt to make a banner and then glued 25 pockets onto the banner. I put the numbers 1-25 on the pockets. From December 1st to the 25th I would put a little toy into the pocket for them to retrieve. Each day they took a star book mark that says, "Wise Men Follow the Star!" and moved it to the next day to count down the days to Christmas.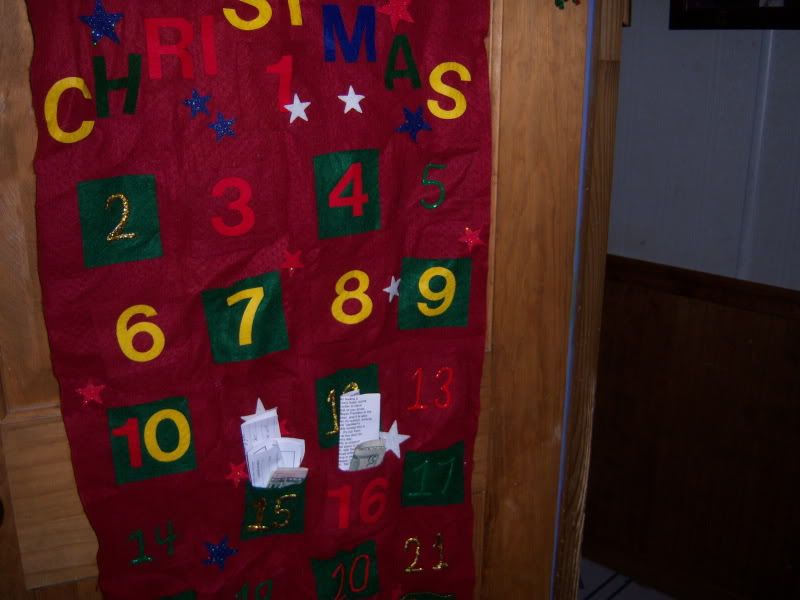 This year we are doing the Advent Calendar a little differently. Instead of receiving a little toy, the boys are getting two one-dollar bills. In addition to the money, they will have a sheet of paper describing a different mission or charity. At the end of the month, they boys get to keep half the money they collected. The other half must be donated to the charity of their choice.
They are actually looking forward to learning about different missions and charities. Some of the charities involve people we know. We have friends who are going to be part of a short-term trip to Haitii. Some of the charities are conducted in other countries. We have learned about Voice of the Martyrs involvement in India and China. Some of the charities occur here in the US and even in Pennsylvania!
Today, they boys asked when they were going to get another charity. They didn't ask for the money or a prize. I think they're really enjoying this. I know I am!