On Wednesday, we had our yearly homeschool evaluations and our youngest, T-bone, was tested. (required in the state of PA at 3rd, 5th, and 8th grade) So, to celebrate, we took Thursday and Friday off of lessons. On Thursday, I spent the day clipping and organizing coupons. When that tast was complete, I scoured the sale papers and any notices on www.moneysavingmom.com to find the best bargains. Thursday night the Big Dog and I did the shopping at our local grocery stores. (and squeezed in a mini-date of a cup of coffee at McDonald's!) I did pretty well, spending about $120 and saving more than $40 with coupons.
Then, on Friday the boys and I headed out of town to hit Wal*Mart, Target and CVS. Here is a picture of everything I got for free.
You are looking at two bags of IAM's kitten food ($4.97 each at Wal*Mart, I used 2-$5 coupons); four Johnson's buddies soaps ($.97 each, I used 2-$1 off any Johnson's products and 1-$2 off any Johnson's Buddies product); 2 bags of Shick disposable razors ($1.97 at Wal*Mart, I used 2-$2 off coupons) 2 packages of Reach floss ($1 each, used 2-$1 off coupons); 2 zone bars (I had 2 buy one get one free coupons); and one bottle of cascade rinse agent for the dishwasher (I had a free coupon from the Homemade Simple coupon book).
Not bad right? But wait! There's more!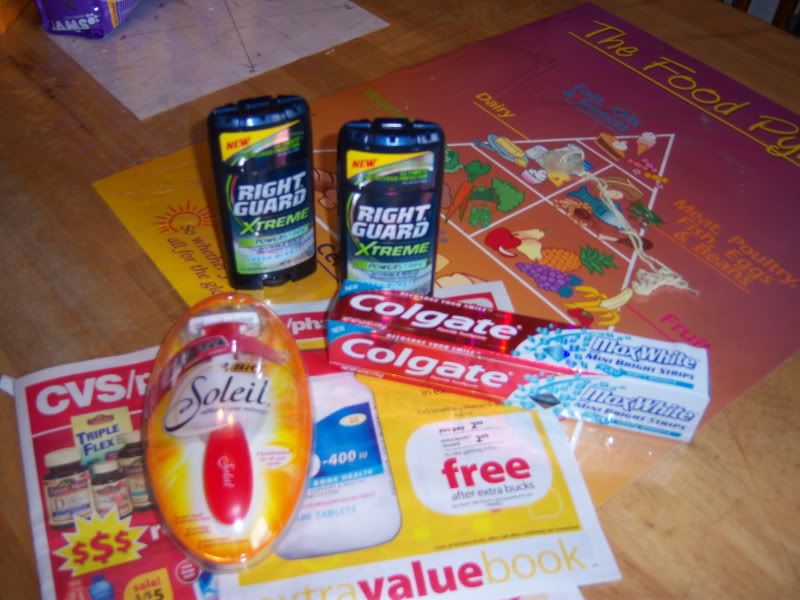 THIS is what I got at CVS for free! The Colgate toothpaste cost $2.99 but you got $2.99 in ECBs at the end of the transaction. The razor was $6.99, I had a $2 coupon, bringing it down to $4.99. The deodorant was $2.99 each and I had a coupon for $1 off of 2. SO, I went to the checkout with my coupons and my merchandise. I checked out and used $13 in ECBs from prior purchases. My total bill? $0.00! Woo Hoo! But that's not the best part. The best part is that everything I purchased gave me more ECBs. So when I go back to CVS, I'll use the $10 ECBs that I earned today towards another purchase.
It was a pretty good day. And then we got home and I found two samples and a free magazine in the mail. In the "every little bit helps" category, these will come in handy. Also, the popcorn sample came with a coupon book. Nothing better than more savings! I use www.moneysavingmom.com to find many of the freebies and samples I request. Check them out today!