In the past few years, we have been praying about moving our little family from our home in Central Pennsylvania to Northern Minnesota.  My husband was raised in a small town about an hour south of the Canadian border.  We have talked about the move for quite some time and I am at peace with however God leads us.  We recently returned from spending 8 days with family who live there.  It was truly relaxing.  Our trip to Minnesota, however, had God's hand all over it.  He made points in several places to show me that He was there.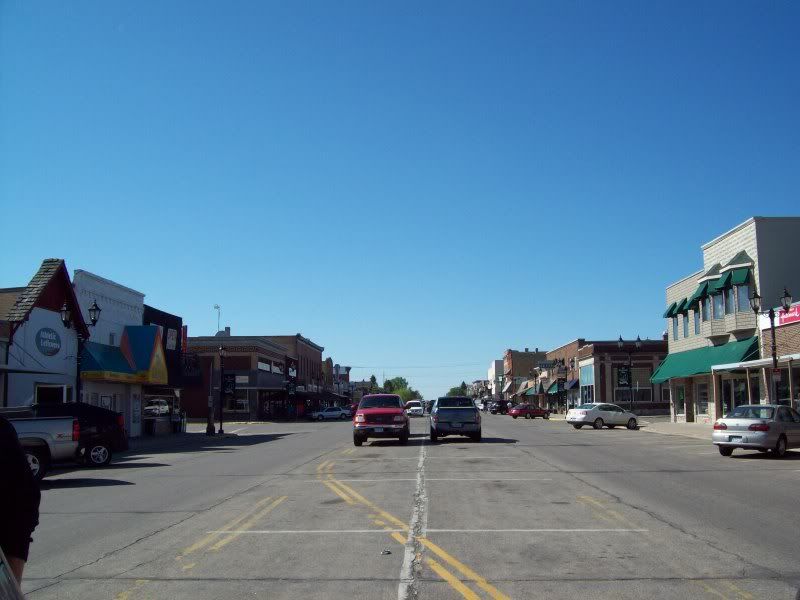 (Main Street, Park Rapids, MN)
(The Park Theater in Park Rapids)
I did have one troubled night.  After spending the evening visiting relatives I could not shake an anxious feeling.  I was exhausted and when my husband and I went to bed I slept fitfully.  I was awake several times that night with anxious feelings.  I would wake from a dead-sleep with butterflies in my stomach and my heart racing.  Some of it was related to the visit earlier in the evening.  There was some tension and I had a bad feeling about the location.  But laying awake in the dark with my heart racing, it was very difficult to not visit a very fearful place in my mind.  When I awoke in the morning I felt as though I had hardly slept at all.  My stomach was upset, my head ached and I was very emotional.  I found myself alone for a little while and as I did, I cried out to God.  As I began to cry in earnest, I told God, "I can't move here.  I just can't live here."  It really grieved me to say that.  My husband and I had talked about moving to Minnesota and I knew that he was really desiring to be "home" once again.
It was then that I opened the bible we had brought with us.  It usually doesn't work out very well for me to just open up my bible and have it fall on a passage I need.  But this day was an exception.  I grabbed the bible and peeled in open.  As I did, my eyes fell on Psalm 61.
 1 Hear my cry, O God;
       listen to my prayer.
2
From the ends of the earth I call to you,
       I call as my heart grows faint;
       lead me to the rock that is higher than I. 
3
For you have been my refuge,
       a strong tower against the foe. 
4
I long to dwell in your tent forever
       and take refuge in the shelter of your wings.
       Selah 
5
For you have heard my vows, O God;
       you have given me the heritage of those who fear your name. 
6
Increase the days of the king's life,
       his years for many generations. 
7
May he be enthroned in God's presence forever;
       appoint your love and faithfulness to protect him. 
8
Then will I ever sing praise to your name
       and fulfill my vows day after day.
It was as though David was praying for me in this Psalm.  I was crying out to God to "hear me!"  When I read "from the ends of the earth I call to you" I almost laughed.  At that moment, Northern Minnesota seemed like the ends of the earth to me.  And my heart was definitely "growing faint."  But when I read this Psalm I was lead "to the Rock that is higher than I."  I felt, once again, fortified.
Later that same day, I was out to lunch with my mother-in-love.  While there I noted a large table of women.  They were obviously celebrating one of the women's birthdays as there was a decorated cake and some presents in the middle of the table.  Before they were served their lunch, every one at the table bowed their heads and one woman lead the group in prayer.  I felt like God was laying His hand on my shoulder and whispering, "I'm here."
My sleep patterns returned to normal as the week progressed.  I was grateful for no more anxiety attacks.  But I was noting as we drove through town that there weren't any large developed evangelical-style churches on the roads we were driving.  I was looking ahead to a time when we would be living there.  Where would we worship?  We took our boys to the McDonald's in town so that I could use their WiFi and check email.  As we sat there sipping sodas, a polite young man walked up to my husband and introduced himself.  He said he was the new youth pastor at the church down the road.  Todd explained that we were currently not living in the state, but this young man took the time to visit with us anyway.  He told us about his heart for the youth of the area.  He spoke of the size of his current youth group and his desire to save the kids in the area from the "bad stuff" happening among them.  He was a lovely young man.  I wonder if he knew that God was using him to say, "I'm here."
All too soon, our time with our family in Northern Minnesota came to a close.  We all cried as we drove down the highway toward home.  Although the tears ended, we are all still a bit homesick for Minnesota and the family we left behind.  I know that if He sends us, He will be there.  He showed me that already.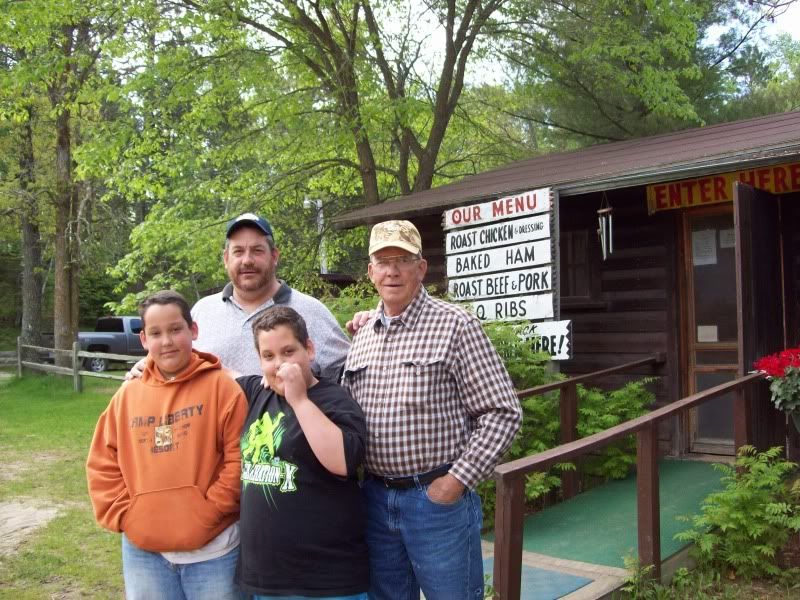 (The Big Dog and his dad with our boys)