A few weeks ago, my mother's side of the family got together for a big summer picnic.  It wasn't just my mother's immediate family, which would include her sister, and three brothers, but it was the extended family.  Invitations went out to all the children of my mother's gradparents.  The picnic was large with almost 60 people in attendance.  Some families were not represented at all, they didn't respond to any efforts to contact them.  But my aunt came from Florida with one of her daughters.  There were family members from other neighboring states as well.
In my immediate family, there are 23 of us when we're all together.  Now, my sister has two older children that are dating, so more often than not, we are 25.  When we're together, we're loud.  We laugh a lot.  And we laugh loudly.  One of my mother's many wonderful traits is her loud and boisterous laugh.  I've inherited it and have had more than one friend comment on my willingness to laugh out loud in any place.
Although the gathering was a ton of fun, it was not the loud raucous event that is usually our immediate family gathering.  There were still many funny moments.  At one point, my Uncle, his cousin, and my mother were standing before the entire group listing the family geneology.  When they would get to someone who was present, they would ask him or her to stand and introduce their children and grandchildren.  When the list got to my mother, my Uncle George piped up, "We don't have enough time!"  Meaning that Mom's family was just too large to introduce!  We all laughed at that.  But Mom forged ahead and introduced all of us, including our oldest son who is named with the family name, Mom's maiden name.
Finally, we were asked to take one large family picture.  Benches were hauled out into the sunlight from under the pavillion and all the cousins were arranged on the benches with their families surrounding them as much as possible.  Our family was placed at the far left of the picture.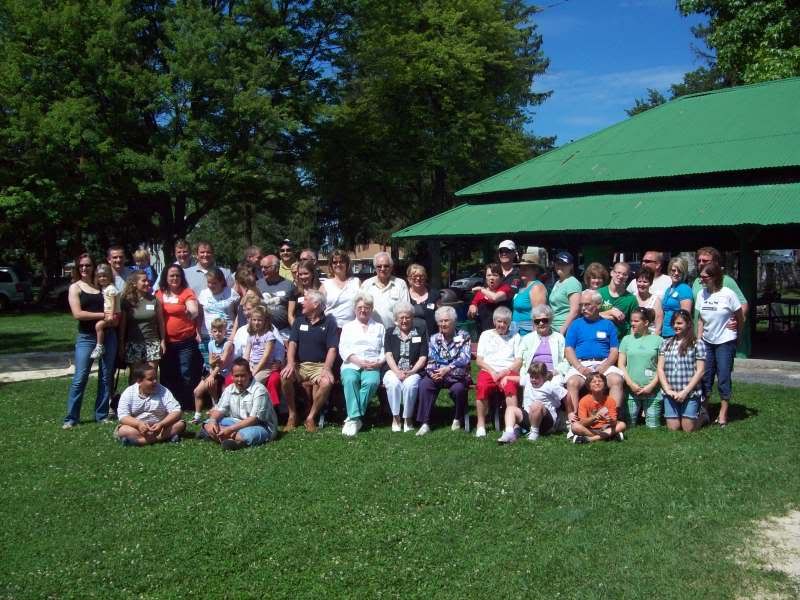 We were lauging and joking the entire time a bank of family friends and dates were taking our picture.  My neice kept leaning over to me and saying, "Aunt Lu, we're the loudest.  Just listen.  We're the loudest family in this group!"  And we were.  Here's the picture to prove it.  This is what we were doing while everyone else was trying to take a respectable picture: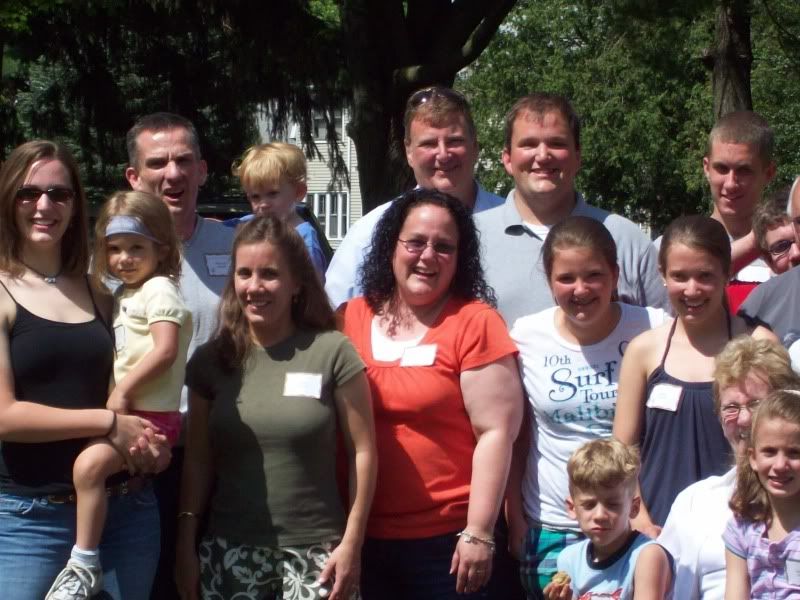 That's me in the orange, laughing, beside my neice, lauging, beside another neice, laughing.  My mother is sitting in front of my neice in the dark tank top.  Yes, she's laughing.  You can't see it, but my husband is to our left (your right) holding rabbit ears with his fingers behind my brother's head.  Behind me to your left you can see my brother holding his youngest child.  I think he's talking.  My nephew in the front of the group has his eyes closed and is eatting something.  It's never a dull moment when we're all together.  Want to see more?
I'm still laughing, but so is my mom.  Seated in the front are my sons...giggling.  And now you can see my husband with the rabbit ears to my brother.  Seated beside my mother is my Uncle, smiling broadly, probably at our antics.
It was a great day.  A great time for our boys to see their heritage right before their eyes.  With such a large family, Mom had every single child and grandchild at this picnic.  It was a great way to honor her.  When the party broke-up most people suggested that we have another reunion soon.  I don't know when that will be, but I hope we are all happy and healthy and able to attend.