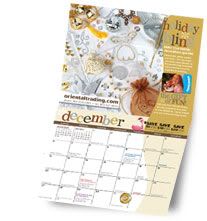 I love calendars.  Every year at the end of the year I sign up for almost every freebie I can get.  I have one hanging in our kitchen for the family to use.  I have one on the refrigerator on which I write the daily menus.  I have on with my devotional book on which I write special prayer requests each day.
But I recently received a really fun freebie from Oriental Trader.  They have a free calendar you can get
here
.  But the thing that's fun about this calendar is that they've recorded special days on it.  It's really a blast.  Since you may not have your freebie yet, here's a list of the fun dates in January:
1/3 - Festival of Sleep (I MISSED this one!)
1/4 - Trivia Day
1/6 - Cuddle Up Day
1/13 - Make Your Dreams Come True Day
1/16 - National Nothing Day
1/20 - National Buttercrunch Day
1/21 - National Hugging Day
1/23 - Measure Your Feet Day
1/25 - Opposite Day
1/28 - National Kazoo Day
1/29 - National Puzzle Day
The boys and I are loving checking this calendar to see what fun we can plan.  So get your buttercrunch, kazoos and puzzles and get ready for January!  But DON'T have fun on the 25th!!!