My family grieves today. Overnight, my Aunt Shirleen passed away in Deland, Florida. She is the first of my mom's generation and on my mom's side of the family to pass. She lived a full 78 years, raising four children, one boy and three girls, watching eight grandchildren be raised, and even getting the privilege of seeing many great-grand-children. I think there are eight great-grand children in her family.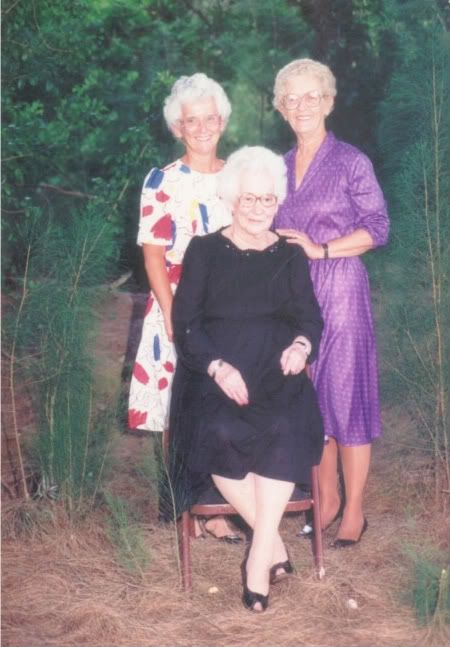 (my mother, my grandmother, and Aunt Shirleen in purple)
Aunt Shirleen was an entrepreneur. She and her husband, my Uncle Lawrie, had a boat business. I remember visiting while she was working at Angler's Boat Center. She was a strong businesswoman and a powerful personality. Seeing her at work made quite an impression on me as I can still remember the way she laughed and "schmoozed" with customers and salesmen. On a recent trip to Florida, one of her grandsons, Roger, told me that Ranger used to make pink and purple boats just for Aunt Shirleen. She loved the color purple.
(My mother, Aunt Shirleen in purple, and A. Shirleen's oldest daughter, Lawrene, recently in Astor, FL)
Aunt Shirleen was a fisher-woman. She used to fish bass tournaments and had a team of women, I think my cousin Jeena was on her team, who fished bass tournaments throughout Florida.
(A. Shirleen, my mom, and their brother, Uncle George, on the St. John's River in FL)
Aunt Shirleen was an optimist. Whenever you spoke to her and asked, "How are you?" The answer was always, "Super!" She was quick to gush out, "Love you!" She laughed loudly. My mom, her sister, laughs loudly too. I inherited that from them. We all laugh without abandon. I remember when Aunt Shirleen and Uncle Lawrie used to come and stay with us when I was growing up. They would play pinochle in the kitchen. My brother, Michael and I would love to sit and watch them play cards because they had so much fun. My Dad and Uncle Lawrie played against my mom and Aunt Shirleen. Dad counts cards so he always knew what everyone was holding. Mom and Aunt Shirleen would get frustrated with them beating them all the time. They teased each other and joked around, laughing all the time. It's a really fond memory of mine, watching the four of them play cards.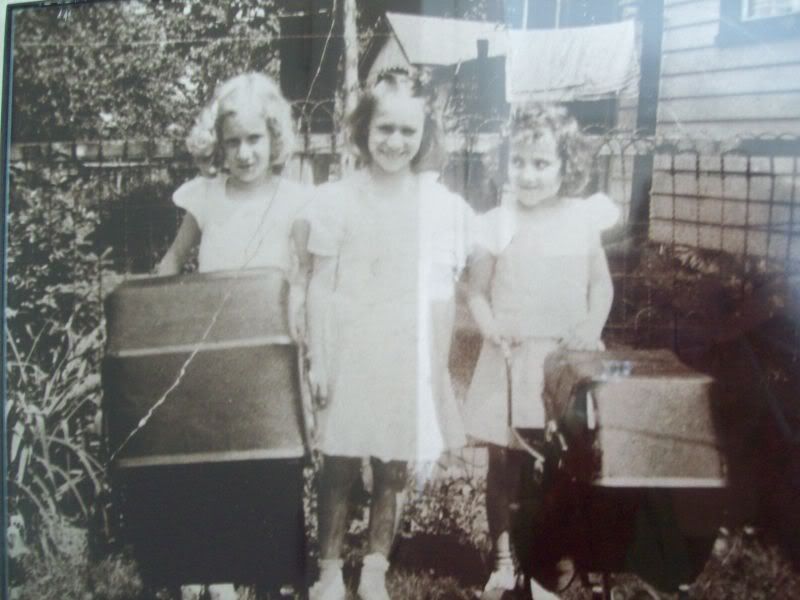 (a picture of a picture hanging in my cousin's house in FL. That's A. Shirleen on the left and my mom on the far right.)
Aunt Shirleen was an encourager. Recently my mom and I took the boys to Florida for a visit. Mom spent her days with Aunt Shirleen watching game shows in her little cabin by the St. John's River. The Florida experience was new for our sons, and at times they felt a little intimidated by meeting lots of family they didn't know existed, or just by being in unfamiliar surroundings. Both boys told me that at different times during our visit Aunt Shirleen, who wasn't speaking much then, would look over at them and just wink. For the boys, that was all they needed to feel reassured that everything was ok. In the past 10 years, Aunt Shirleen never hesitated to tell me how beautiful the boys were whenever she visited. She was always encouraging me as a mother.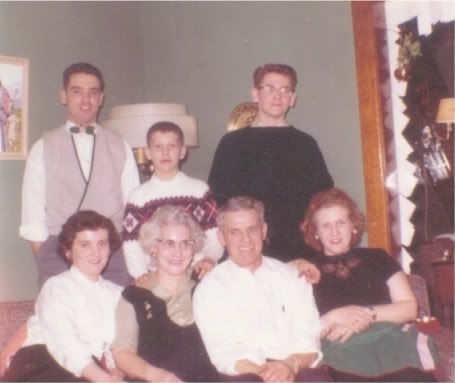 (My mom's family. Front row: Mom, Grandma, Grandpa, A. Shirleen. Back Row: U. George, U. Brad, U. Dave.)
Aunt Shirleen was a Christian woman. Recently while visiting my Uncle's conservative church in PA, she shouted out, "Amen!" I'm sure she worshipped without hesitation, and is doing so now on those streets of gold. She and mom did their devotions in the morning while visiting together in Florida last month. One of those mornings, Aunt Shirleen said, "I want to show you something." to mom. The devotional book she was using was one mom had sent her as a gift. Mom had written a note to her on the inside cover. She had used it every day for years and years.
(Aunt Shirleen recently at her home in Astor, FL. My cousin Lawrene in the background.)
Aunt Shirleen was a great cook. When my cousin, her daughter, opened a restaurant, Aunt Shirleen baked the pies. I remember big family dinners when we came to visit for vacation in Florida. I still make her fish broil recipe today. It's one of my very favorites.
(Mom's family. Back row, l to r U. Brad, A. Shirleen, Mom, U. George. Front Row, Grandpa, U. Dave, Grandma)
Like most women, Aunt Shirleen wore many hats. She was a mother, daughter, sister, friend, grandmother, great-grandmother, aunt, business person, church member, cook, maid, and spouse. In highschool she was popular, I'm told. I can see why. When she was in a room you always knew where she was. She seemed to have friends everywhere she went. In these last years, she may not have had the same energy of her youth, but her "super!" still shone through whether through a wink to a great-nephew, a lopsided smile to a sarcastic neice, or one of her own witty comments. She left an impression, I'm sure, on all who met her. I know she left a permanent impression on my life.