Several weeks ago, I received a trial-period download of the software Graphics Toolbox to review for the TOS Crew and this blog. I was excited to receive this software because there are numerous times when writing the blog, or trying to develop a worksheet or lapbook mini-book, and I have a certain image in my mind but can't find a graphic that suits what's in my mind. To me, this is frustrating. I have a clear idea but no matter where I search I can't find the image to fit what I want. Graphics Toolbox solves those problems.
In Graphics Toolbox, you can bring in a graphic or picture and change the color, remove items or details, add items or details, or combine graphics or pictures. You can manipulate any graphic or picture you can find. Now, of course, you are always bound by copyright laws in your own work. I wouldn't publish a graphic or logo that belongs to someone else. But you can take a generic graphic that you find and make it your own.
The software Graphics Toolbox comes from the company Great Software Tools, Inc. I found this company easy to work with. They have great tutorials on their website. As a matter of fact, I learned how to use this software by working through one of the tutorial videos. Although the video is listed as being able to teach you how to accomplish one task, it covers so many features of the software that you learn the basics of using most of Graphics Toolbox by working your way through a tutorial.
Let me show you very simply what Graphics Toolbox can do. I took this image from the Great Software Tools website.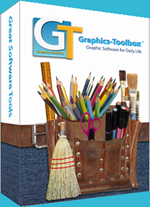 But I wanted to make it look a little different. So, after I saved it on my hard drive, I went into my Graphics Toolbox software and opened or "read in" the image. After a few clicks, I turned it into this:
I've had fun playing around with this software during the trial period. Two previous posts featured things I learned to do with Graphics Toolbox. Check them out here and here.
I will be able to find multiple uses for Graphics Toolbox in our home. I will use it to manipulate pictures for cards and invitations. I will use it to modify graphics to use for worksheets and lap-book minibooks. I will use Graphics Toolbox to re-define graphics on my blog! Although I was the one who spent most of my time using Graphics Toolbox, our 13 year-old caught on quickly and did a little graphics manipulations of his own. Our boys are very computer literate, so I'm confident that our 11 year-old will be using Graphics Toolbox as well.
I must warn you, however, that this is not a software for the faint of heart. It is, of course, very graphic, and once you understand the basics, I really think you can learn all of the features easily. But if you don't have a computer or graphics background, getting used to using frames and using the desktop as a desktop and not a piece of paper is challenging. But again, use the video tutorials to learn the features of Graphics Toolbox and you'll be golden.
Before committing to buy, check the computer requirements here. If your PC meets the requirements, you can purchase Graphics Toolbox for $149. If you would like to talk to the people at Great Software Tools, Inc. you will find a contact form here. Since this software is different from anything I've seen for the homeschool community, please read the reviews of other crew members here. It always helps to get varying opinions!