We got the most fun package in the mail a little over a month ago!  I got the opportunity to review a product from
Buckets-O-Fun
.  I didn't know what I was going to get, but take a look at their website... I would have been thrilled with anything!  Well, let me tell you, I was not disappointed.
This company out of Portland, Oregon has a ton or really neat items that you could use in your homeschool or just for fun family-time.  You can contact them by using the information you'll find on their website
here
.  If you check out
their website
you will see that they have a ton of really fun products, so much more than I'll tell you about today.  Check them out, definitely.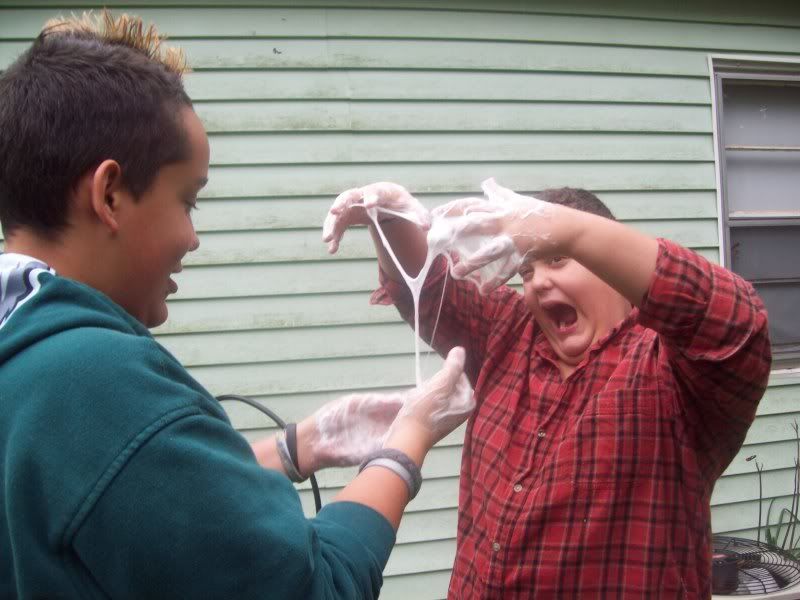 We received a sampler of their "
yuck
" products.  There are four products available in various quantities and prices
here
.  From the day we received the envelope to the day we actually played around with these products I heard, "Can we play with the yuck yet?"  It was like waiting for Christmas morning!
Our results and review: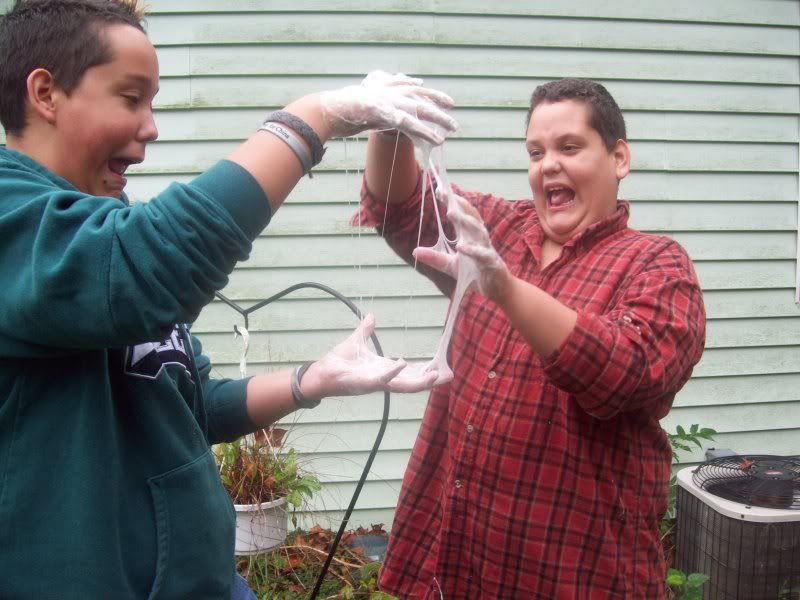 We spent several hours adding water and playing with this product.  We used our favorite plastic lunch counter trays, one for each item.  Each of us took an envelope (Big Dog played too) and then we traded products after we played with ours for a while.  We experimented by mixing a small quanitity of each together.  We also experimented with the amounts of water each would absorb.  We left each substance on its tray for a few days to see if it would dehydrate but it was very humid that week and we didn't see much dehydration if any.  Eventually we disposed of the substances and cleaned off the trays.  But each day the boys spent some more time playing with yuck.  They couldn't keep their hands out of it!  I would suggest this product for children from about 6 to 100.
This was an awesome product!  The pictures will show you the fun we had.  And the boys learned something too.  The colorful handouts sent with the product were informative and well-done.  We could have spent DAYS exploring all they had to offer.   I'm not sure if I would have a reason to purchase a pound of it, but even now as I type that I'm thinking, "Buy a pound and divvy it up for children's Christmas gifts."  That's a definite possibility!  Our favorite was the sticky yuck.  But all the products were totally fun.  You can order your own sample by sending an email to
order@buckets-o-fun.com
.  AND they sell yuck accessories
here
.  Our boys would TOTALLY love any of these accessories with some new packs of yuck.
T-bone's Review
:
My favorite was the sticky yuck.  The only problem about the sticky yuck was that it's nearly impossible to get off your hands.  And it's not digestible so I would suggest not having this around little kids.  They might think it's something edible and eat it and become sick.  But if you have a 8 through 10 year old kid, I think this would be a good experiment for them because it's very fun to play with.  But overall you need to be old enough to realize that this stuff sticks to furniture.  Overall it was fun.  But I think a little bit dangerous.  So if you are going to be playing with this stuff I would suggest playing with it at the table or outside at your picnic table or in the grass.
Big Mac's Review:
Yuck was a very fun and interesting experiment.  It was very odd how as soon as you put the water in the yuck already started to change.  The yuck that was able to take the most water was chunky yuck.  The sticky yuck was probably my favorite because it looked like boogers.  The snowy yuck was fun because it stuck to your hands a little bit.  In fact they all stuck to your hands a little bit.  Overall I'd give it a five out of five stars.
As usual, don't just take our word for it!  The crew has been playing with yuck for a while and my fellow crew-mates are all blogging about it.  Find their links
here
.
I received a sample pack of the four types of yuck from Buckets-o-Fun in order to complete this fair and honest review.