I told you the other day that the church we attend is having an Easter choir.  What I didn't tell you is that I directed it.  The process began months ago and we rehearsed and rehearsed, but as Easter fast-approached I got nervous.  I woke up the week of the cantata with butterflies in my stomach.  "What if the choir can't hear the music?"  "What if the video person can't hear the choir?"  Panic settled in my stomach.  In the midst of all this, Big Mac comes in one morning with the mail.  In it is a card addressed to me.  I recognized the return address.  It's a couple that we went to church with in the past.  They go to the same church we do, but I rarely see them because they go to the early service and I go to the late.  When I opened the envelope, I was floored by what I read: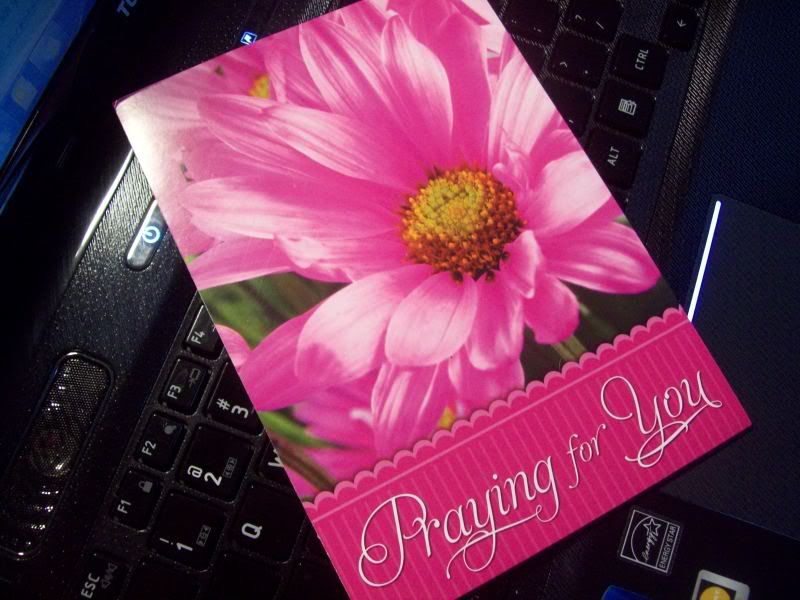 Inside, the printed part of the card read:
When change is everywhere
and you are feeling overwhelmed,
please remember that God
is everywhere too,
and He is always with you.
It was just the perfect thing I needed to read and hear!  I am so amazed at how God works through others.  One of these days, I'm going to design a greeting card that says, "God Used You."  And I would send it to this couple.  God used them and I was encouraged.  I'm so glad they listened when He promped them!  So often this happens to me that someone contacts me with a card, or a phone call, or a visit just when I need it the most.  God uses them to encourage me.
The Cantata went off without a hitch.  On Easter morning, I woke up and I was calm.  I didn't have butterflies and my hands were not shaking.  I got dressed and as I looked into the mirror I realized people were praying for me.  Later at church, many people told me that they were praying for me.  I felt those prayers.  Those prayers washed over me and carried me through what could have abeen a difficult stressful morning.  God used the prayers of those people to calm me.
I just hope that I am as useful to God as all of those that blessed me.