I stumbled on these crochet  mysteries on
Paperback Swap
several weeks ago and I've been reading-and-reading ever since.  I actually had to go and BUY my last book and I'm still waiting for it to arrive!  The Crochet Mysteries by Betty Hechtman are quick reads that combine my love of reading fiction with my love for crochet.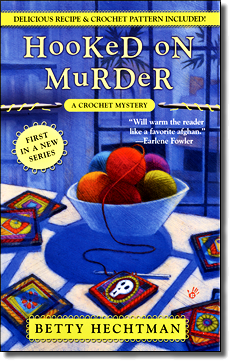 I'm sure I've told you this before, but I was taught to crochet by a little Italian grandmother when I was in elementary school.  My mom and sister and I tromped a block down the street to visit my friend Lisa's Nanny and she taught us to make a shell afghan.  I picked up crochet again a little over 15 years ago when I was newly married and in need of a baby gift.  My husband said, "Do you know how to crochet?"  And my passion was ignited once again.  since that day many years ago, I have branched off from shell-stitch afghans and onto many other useful items including things I can wear.   I always have a project with me wherever we go.
Well, a few weeks ago I was cruising through Paperback Swap and I found these books.  They are mysteries that all involve a group of crocheters called the Tarzanna Hookers.  I read the first book (pictured to the right) in 3 days!  I love the characters.  The books are humerous but also mysterious.  There is always at least one sub-plot in addition to the mystery.  The characters are endearing.  I just love these books.
I loved 'em so much Isent the author a friend request on Facebook!  Can you say stalker?
Silly things give me joy.  Having a series of books that talk about a craft I love, AND have murders in them, are just fun!  While I was searching for the next book, I found that there are knitting mystery books, scrapbooking mystery books, and cooking mystery books.  Maybe there's an interest in there that you might enjoy?