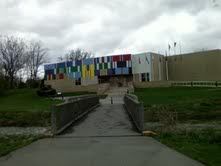 We trundled into the van with our close friends to take a trip to the
military museum in Boalsburg, PA
this week.  It was a damp and cold day, not great for being on their beautiful walking trails, but the boys didn't mind.  They still took all the time they could to climb up onto the tanks.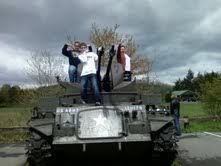 The boys had to climb on all the tanks before we went into the museum.  Although I found it to be appealing, for $6 per person, it was a little pricey for the size.  We saw the entire thing in under 1/2 an hour.  Now, granted, if you took the time to read the text at every display, it might take longer, but when you're with three energetic boys THAT's not going to happen!
We went back outside to eat our lunch.  The boys ate on a tank, the moms ate in the warm van.  We would have taken lots more time to walk the grounds, but again, it was cold and damp.  There is a beautiful memorial and we took a bit of time to tour that before heading to the van for good.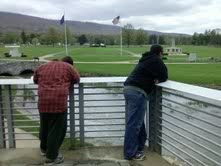 We will go back.  And take the Big Dog with us.  He would LOVE that place.  There was a small gift shop an the boys each got a lapel pin.  T-bone's is a pair of flight wings, like the Airforce receive.  Big Mac got a pin that says he is an Army Ranger.  Next time, I would pick a sunnier, warmer day, and skip the museum, simply spending my time touring the grounds.  There is plenty to see as well as a lovely walking trail.
It was a great trip.  We will definitely go back.  They stage lots of reenactments during the year, so we'll be there for one of those soon.