If you missed my first installment, check it out
here
.  Continuing...
26.  Go for a stream hike.  Put on an old pair of sneakers and take a walk in a creek.  I suggest plastic containers so you can collect critters or cool rocks.  Just follow the stream as you would a trail.
27.  Make
edible playdough
.  I don't care how old you are, you're never too old for playdough.
28.  Volunteer.  We just finished up being the helpers for 5 weeks at the summer story hour at the library.  We took advantage of this program when the boys were small and this year was our time to give back and be helpers for all the little people.
29.  Go to the drive-ins.  There are 3 drive-ins within an hour of our house.  Our guys have wonderful memories of these last few years piling into the van with our pillows, sleeping bags and snacks and taking in two feature movies on a summer's night.  It's great memory building time.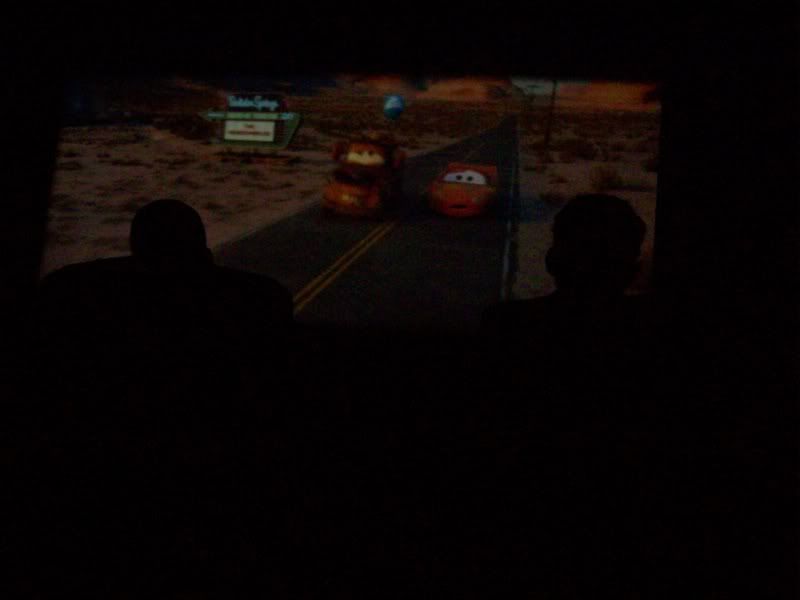 30.  Listen to music.  I listen to what they like (right now, rap) and they listen to what I like.  I just reviewed
a new CD
that's a lot of fun.
31.  Walk the mall.  I always have fun when we go to the mall and I just let the boys lead.  I watch the things they're attracted to.  We talk so much about styles and interests.  We rarely buy anything, but it's a ton of fun for me.
32.  Paint a "real" picture.  I bought a cheap canvas and let the boys loose with our acryllic paints.  They loved it.
33.  Shoot
archery
.  This is one of our family's favorite activities.  Maybe yours would enjoy it too?  I'm not very athletic at all but I thoroughly enjoy shooting my bow.
34.  Make a fort in the living room.  Even at almost 15 and 13 our boys will still make a huge living room fort on occasion.  I let them move furniture and take all the cushions off the sofas.  Of course, they have to put it all back where it was when play time is over.
35. Learn origami.  We learned a new orgami fold each week at the library summer story hour.  It's fun to be able to fold your church bulletin into something cool by heart.
36.  Go out for icecream.  We have found an ice cream spot that is a bit of a country drive, but we are making lots of summer memories taking our drive.
37.  Read a book. 
Here's
what we are reading as a family right now.  As we finish supper, I read a chapter.  If we're going out for ice cream, Big Mac reads to us.  (I get sick when I read in the car)  We always have a family chapter-book going.
38.  Write a poem.  You can write a big poem as a family or each of you can write your own.
39. Learn to knit.  I've never gotten the Big Dog to knit, but the boys both learned a basic knit stitch.
40.  Take a trip.  Half of our family lives in Minnesota.  We live in Pennsylvania.  It takes us two and a half days to drive to MN for a visit.  Actually
the drive is a great part of the trip
.  We listen to books on tape.  We give the boys special treats and surprises every few hours.  We play travel games.
41.  Have a
game day
.
42.  Have a yard sale.
43. Go yard saling.
44.  Go to a thrift store on half price day and let them try on everything they like, or pick up a new-to-them toy or game.
45. Watch a tv show from your childhood and tell your son or daughter about why you liked it.
46.  Go to grandpa's house and have him tell a story from his youth.  If you don't have a grandparent nearby, find a surrogate grandpa at a local retirement home.
47.  Play the guess who game?  We think of a person, maybe someone in the family, or a well-known person, and everyone else gets to ask us questions to try and guess the person.
48.  Go to a historical reenactment.  Our favorites have been Williamsburg, VA; the renaissance faire, and Gettysburg, PA.
49. Paint rocks.  when we had a friend over for a few days, we picked up rocks in the driveway and painted them to make critters.  I still have the rock I painted when I was in summer camp as a child.
50.  Make a photo book.  Either put some pictures into an albumn (I've picked up some beautiful albumns at the thrift store) or do one of those cool photo books at the photo kiosks at drugstores or on line.
Want to contribute to this list?  I'd love some help actually getting to a million.  Give me some entry ideas and I'll give YOU the credit!  Leave a comment with your addition to "A Million Things to Do with your Kids!"