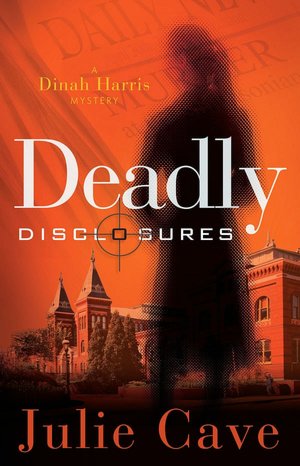 I received a copy of the e-book "Deadly Disclosures" from Creative Conversations for Christmas. They didn't require a review of the book, it was just a present. So I started reading it last week. THAT was a big mistake. For the last two days, as the boys were trying to figure out Algebra I and II on their own...I was reading. When I should have been sleeping because I needed to get up at 5:30 AM to get some work done...I was reading. Instead of picking up the few groceries we need this week while the boys were at their youth group...yeah, I was reading. Well, I finished last night and I couldn't wait to tell you about it.
Ok, so Deadly Disclosures is mostly a story about Special Agent Dinah Harris of the FBI. A series of tragedies make her life unravel and she's destroying herself and her career. Then, the secretary of the Smithsonian museum goes missing and she is pulled back into being an active agent on a dangerous case involving very high-profile people. Two mysteries unfold, they mystery of Dinah's past, and the mystery of the secretary's death.
What follows is a gripping story that also reveals the truth of creation vs. evolution, and the infallability of the bible. Although all the factual parts are presented as part of the story, I found Deadly Disclosures to be so thought provoking. I highlighted quotes that convicted me about public education/government schools, the proof of creation, and the truth of God's word. I always like to give you at least one quote I collect from what I read. For Deadly Disclosures, it was hard to narrow it down to one quote. But here's one:
"Actually, God created an earth that was perfect in every way, " explained Sandra. "There was no death or suffering in that world. But we ruined it by rebelling against Him. So really the fact that there is death and suffering in the world is because of us."
Isn't that thought provoking? And it's a great response to that age-old question, "If there is a loving God, why does He allow suffering and death?"
Now here's the cool part! If you want to read this e-book it's available for $.99 right now! But you've got to hurry. It will only be at this price until the 31st of January. Here's the links:
Amazon
Barnes & Noble
Answers in Genesis
This book would be appropriate for a High School student, but I wouldn't go much lower than 9th grade. There are murders discussed in some detail in the book. But if you let your high school son or daughter read it, I guarantee that you will have some excellent discussions after he has read Deadly Disclosures. After you or your family read, come back and tell me what you think. I was hooked! Were you?