So, I'm sitting in the dentist's office reading. The boys had back-to-back appointments, so that means I spend about an hour and a half in the paneled waiting room of our dentist. I decided to take that time to read the introduction of the new book I had received to review. It was
The Art of Argument
from
Classical Academic Press.
I've always been intrigued by the study of fallacy and logic. I have never really introduced to the boys but I've always wanted to. Well, wouldn't you know it this logic curriculum landed in my mailbox. And it came from a
company
in Camp Hill, PA! I could have driven there and picked it up. I even have an uncle living in Camp Hill. But I digress...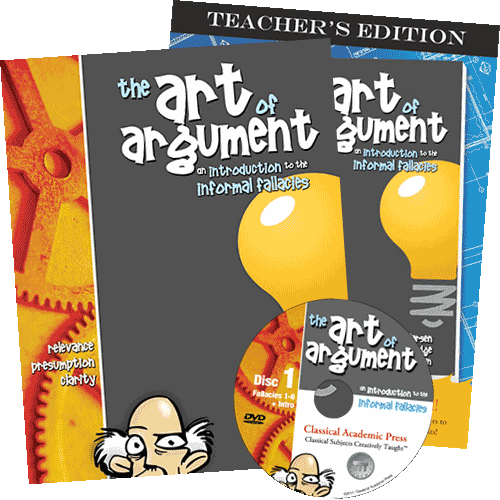 So, I'm reading the introduction in the teacher's guide and I lean over to T-bone, who was waiting for his turn with the dentist, and read him a paragraph from the intro. As I finished, a young man sitting across the room said, "I took a course like that in High School and it was BY FAR the best course I ever took." We ended up in a conversation. This young man was a youth pastor at a nearby church. He had been homeschooled growing up. He took a logic/fallacy course as part of his high school and he found it to be the most valuable course throughout all his education, including college. It is the course he most relies on in life.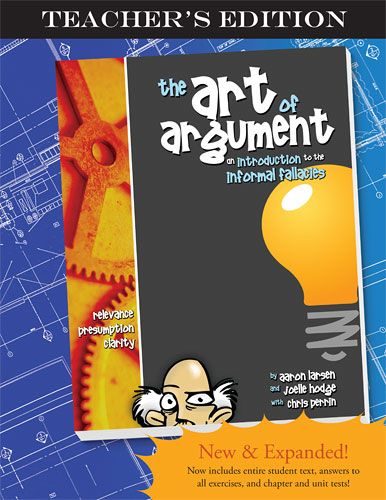 And so, we are pursuing a course in logic.
"The Art of Argument"
is easy to implement. There was an introduction in the teacher's manual, but it was easy to read. Basically, you just dive in. I am glad I have the teacher's guide because I would not have a clue about how to answer the questions in the student book. There was also a
DVD
included with my review materials. This was a sampler covering chapters 1 through 6. The quality of the video is excellent. I'm glad to have it to introduce us to the content and help us through the first few chapters.
And this is a fun book too. The student guide is a workbook, with all the content you need, but it's got great graphics that are very teenager friendly.
So, take the advice of our new youth pastor friend and pursue a course in logic with your children. Maybe they'll sit in a waiting room when they're older and tell some homeschooling mommy that it's the best course they ever took in their life.
You will find pricing information about this product and all the others Classical Academic Press offers
here
.
Even though this is a glowing review, please check out the opinions of others who have also reviewed this product. You can find links to
The Art of Argument
reviews
here
.
If you would like to contact Classical Academic Press directly, check out that information
here
.
Disclaimer: I received a copy of the Art of Argument, teacher's guide and student guide with a sampler DVD in order to complete this honest review.