I have a book to tell you about and right now you can get the e-book version for free! I've been wanting to tell you about this book for a while. I actually read the entire series. And, I have to tell you, I'm sad that they are over. I really miss the people I met at Deepwater Cove while reading the Four Seasons series.
But, I digress, I want to tell you about the first book in the series
It Happens Every Spring
by Catherine Palmer and Gary Chapman. You may recognize that second author. Yep, it's the non-fiction, marriage and counseling, Gary Chapman. He and Catherine Palmer built this fiction series based around his four-seasons of marriage.
In
It Happens Every Spring
, you meet the residents of Deepwater Cove, a small community that live on a lake in Michigan. This first book introduces us to all the residents, but we spend lots of time with Steve and Brenda, a middle-aged couple who are struggling with an empty nest and how their marriage will look inside this nest. Their troubles are coupled with the arrival of a stranger named Cody who steps into everyone's lives in one way or another.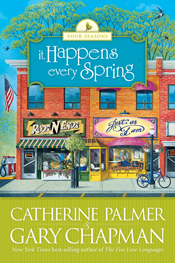 I loved this book. In truth, it took me a few chapters to get "into" it, but once I did, I didn't want it to end. I quickly ordered the rest of the series when I finished It Happens Every Spring. I was able to get all of my books from
Paperback Swap
, but they are readily available at all the booksellers like
Amazon
and
Barnes & Noble.
AND right now you can read It Happens Every Spring for FREE. If you click on that Amazon or Barnes & Noble link above, you can get the Kindle edition or the Nook edition for $0.00. I learned about this because I get Tyndale's e-book extra newsletter. They send me a schedule of the e-books they will have available for free over the course of a month. You can sign up for it
here
. And
here
is a list of all that's free in January.
So, if you're intrigued by my review of It Happens Every Spring, then what are you waiting for? Go get it for free! But don't dally. It's only available free until 1/31/2013.